I bought a few Virtual Private Servers (VPS) on Black Friday, and have been busy setting them up. Nowadays, most VPS comes with an IPv6 subnet that contains millions of possible addresses. Initially, only one IPv6 address is assigned to the server, but the user can assign additional addresses as desired. Given that I plan to run multiple services within a server, I added a few more IPv6 addresses so that each service can have a unique IPv6 address.
One of my servers is using OpenVZ 7 virtualization technology, in which I installed Debian 10 operating system. Commonly, OpenVZ 7 uses virtual network device (venet) that does not have a MAC address. venet devices are not fully IPv6 compliant, but still works if you statically assign IPv6 addresses. Moreover, every IP address used in a container must be configured from the host node, because venet would drop ip-packets from the container with a source address, and in the container with the destination address, which is not corresponding to an ip-address of the container. Therefore, I must use the VPS control panel, in this case SolusVM, to assign IPv6 addresses to my server: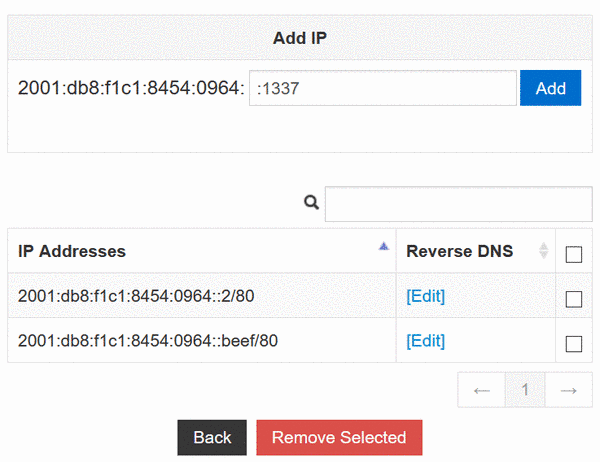 In the Add IP section, the IPv6 subnet prefix 2001:db8:f1c1:8454:0964: is already shown. Notice that I am putting a colon (:) in front of the suffix 1337, so that they concatenate to the full address 2001:db8:f1c1:8454:0964::1337. Forgetting this colon would cause "Invalid Entry" error.
After making this change in the SolusVM control panel, the /etc/network/interface file on my server is updated automatically: